Richard (Rick) Peter Nashleanas – Age 57
August 24, 2016
Richard (Rick) Peter Nashleanas, beloved husband and father, passed away suddenly on August 24, 2016, in Colorado Springs, Colorado. He was born in Sioux City, Iowa on December 15, 1957, the youngest of three children born to Peter Adam Nashleanas and Eleanor Theresa Shuck.
Rick graduated from East High School in 1976. After graduation, he attended Washington University in St. Louis, and studied economics under a Reserve Officers' Training Corps scholarship. He then attended Indiana University, Bloomington, where he earned his MBA.
Family, friends, and colleagues were extremely important in his life, and he made a point to bring a smile to the faces of everyone he met. He enjoyed traveling with his family, finding new adventures along the way, and playing piano. He had an incredible sense for fun, lived fully in every moment, and was committed to serving others throughout his life.
As an entrepreneur, he was also passionate about building distinguished businesses in the technology community. He founded Eden Systems Corporation and Monarch Digital, the latter of which was where he worked up until his passing. He enjoyed building relationships with his clients and mentoring others, especially his "guys" at Monarch Digital, and he was an active member of the Drupal website development community.
Rick leaves behind to cherish his memory his devoted wife, Patricia Nashleanas; two loving sons, Patrick Lance Nashleanas and Richard James Nashleanas; two siblings, Michael Nashleanas and Marcia Rissler; in addition to a host of other extended, adoring family members and friends.
A service of remembrance will be held on Saturday, September 3, 2016 starting at 2pm at Swan Law Funeral Directors, 501 N. Cascade Avenue, Colorado Springs, Colorado 80903. Anyone who knew Rick is welcome to attend.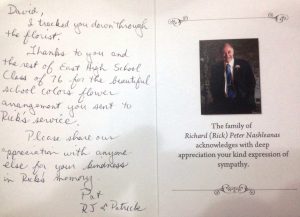 Save
Save
Save
Save
Save